Ribera del Duero is a denomination of origin with vineyards located in Castilla y León (Spain), in the basin of the River Duero, about 71 miles long and 21,75 miles wide, located among four provinces, Soria (19 towns), Burgos (60), Segovia (4) and Valladolid (19) .
Ribera del Duero begins approximately in the east in San Esteban de Gormaz to Quintanilla de Onesimo in the west.
Nowadays Ribera del Duero is conformed by 51.870 acres of vineyards and almost 8400 vine growers.
Grape
The wines of the D.O. Ribera del Duero are mainly red, although rose wines exist too. The most important variety grape is generically called Tinta del País, it is known throughout the world as Tempranillo, which constitutes over 90% of the production.
Tempranillo, Cabernet sauvignon, Merlot, Malbec, Garnacha tinta and Albillo are the varieties allowed by Ribera del Duero.
History
The Phoenicians , through its merchants, introduced in the Iberian peninsula the most advanced techniques of farming and production even the most suitable vines about 1000 years before our era.
Several centuries later, the Romans discovered the quality of the wines of Hispania . The wines of the Ribera del Duero were used to supply the armies and even today can be found a Roman mosaics with ornamental motifs associated with the god Bacchus, as the mosaic located in Baños de Valdearados ( 64 miles from Roa ).
In 1295 , The harvest began to be regulated and since the fifteenth century also the production and wine quality began to be controled.
There are countless underground cellars in Ribera del Duero excavated between the XII and XVIII centuries with the objetive of keeping the wine in constant temperature and humidity.
La Denominación de Origen
Since 1975 It was spoken to the potential of the wines. The next step was the provisional recognition (1979) of the Designation of Origin Ribera del Duero, which was constituted definitely in 1982.
The Ribera del Duero direction and building was initially established in Aranda de Duero, but it changad in 1982 to Roa, where it is currently. Since then, all them have worked to achieve and maintain a quality that has been recognized as national and international wine specialists as consumers themselves.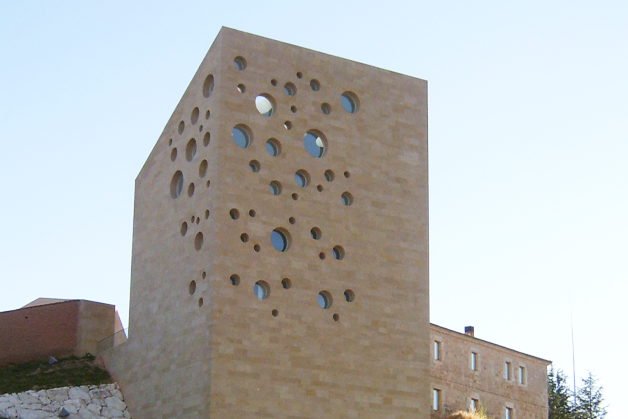 Ribera del Duero´s building is located in Roa, 400 meters away from our winery.